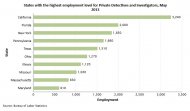 Private detectives and investigators provide private investigative services to collect information. Private detectives analyze information to solve mysteries and uncover facts. Private detectives and investigators offer protection services, pre-employment screening, and investigate peoples' backgrounds. Some investigate identity theft, cyber harassment, and copyright violations. They assist during criminal and civil cases, insurance fraud, missing persons investigations, and child protection and custody disputes. They are often hired by people to investigate whether their spouses have committed infidelity.
Private detectives
utilize many investigative methods. They generally use computers to find documents, locate deleted emails, and conduct database searches. Investigators utilize computers to find information about criminal records, telephone numbers, court judgments, and motor vehicle registration.
Detectives and investigators also conduct surveillance. Investigators make phone calls to verify, for example, someone's income or location of employment. While conducting missing persons or background checks, detectives conduct interviews to collect information. Sometimes investigators conduct undercover work to monitor people without being identified.
Most private detectives and investigators understand how to conduct physical surveillance while some specialize in using technology for surveillance. Sometimes private detectives conduct surveillance from a car or a location where they will not be noticed. Using video cameras, mobile phones, and binoculars private detectives conduct time consuming surveillance.
The duties of private detectives are dependent on clients' requests. For example, if a private detective were investigating workers' compensation fraud, he or she might monitor the person suspecting of committing fraud to determine whether it is being committed. If the person is defrauding workers' compensation, the investigator would document it by taking pictures and report the person to authorities.
Detectives and investigators must obey all laws while conducting investigations. They must stay updated about privacy laws, as well as other federal and state laws affecting their work. Often private detectives must make judgment calls when the legality of certain surveillance methods is unclear. They must collect evidence legally, so it will be admissible in court.
Many private detectives and investigators become specialists. For example, those specializing in intellectual property theft investigate piracy and provide information to be used in law suits. Other investigators specialize in finance, usually assigned to search for missing financial assets. They collect information through interviews, surveillance, research, and the examination of public documents.
fnf
Source: www.careerprofiles.info
Charlie and the Chocolate Factory Novel Study Unit CD


Office Product (The Teaching Bank)




The unit is designed so that you can start teaching immediately with little to no preparation on your part. Great time saver!
Teacher plans are ready to be turned into administration along with Common Core Standards alignment.
Great for whole class instruction, literature circles, or individual instruction.
High interest novel to help students develop a love of reading.
Perfect for the classroom teacher or home schooling parent!
You might also like: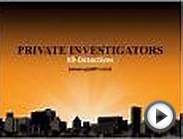 Private Detectives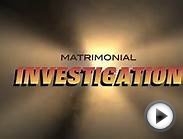 Private Investigator/detective Singapore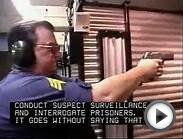 Detectives and Criminal Investigators
Related posts: