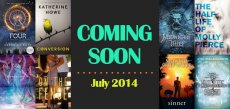 Set aside those paychecks and consider forgoing paying your rent this month because you'll want to spend your dough on these 15 YA novels arriving next month!
(Most anticipated = most YA books added on Goodreads as of June 24th, 2014 when we collected the data. View the entire list and see how the rankings have changed here.)
Fans of the Divergent series by #1 New York Times bestselling author Veronica Roth will be thrilled by Four: A Divergent Collection, a companion volume that includes four pre-Divergent stories plus three additional scenes from Divergent, all told from Tobias's point of view.
On sale July 8th from Katherine Tegen Books!
With three older brothers, Charlotte Reynolds, aka Charlie, has always been more comfortable calling the shots on a basketball court than flirting with the opposite sex. So when her police officer dad demands she get a summer job to pay for the latest in a long line of speeding tickets, she's more than a little surprised to find herself working at a chichi boutique and going out with a boy who has never seen her tear it up in a pickup game. Charlie seeks late-night refuge in her backyard, talking out her problems with her neighbor and honorary fourth brother, Braden, sitting back-to-back against the fence that separates them. Braden may know her better than anyone. But there's a secret Charlie's keeping that even he hasn't figured out—she's fallen for him. Hard. She knows what it means to go for the win, but if spilling her secret means losing him for good, the stakes just got too high.
On sale July 1st from HarperTeen!
SINNER follows Cole St. Clair, a pivotal character from the #1 NEW YORK TIMES bestselling Shiver Trilogy.
On sale July 1st from Scholastic!
Growing up on Forge's streets has taught Kyra how to stretch a coin. And when that's not enough, her uncanny ability to scale walls and bypass guards helps her take what she needs. But when the leader of the Assassins Guild offers Kyra a lucrative job, she hesitates. She knows how to get by on her own, and she's not sure she wants to play by his rules. But he is persistent-and darkly attractive-and Kyra can't quite resist his pull.
Source: www.epicreads.com
You might also like: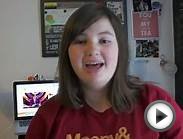 TOP 10: YA Novels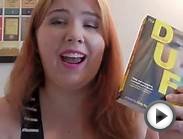 My Favourite YA Contemporary Novels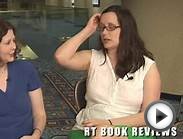 Jennifer Estep on her Mythos Academy YA series
Related posts: