What types of books do you like to read? Are you a mystery buff? Maybe you enjoy reading reflections about the world around you. Or, are romance novels your thing? These different types of books are examples of specific genres.
The genre of a book is determined by the content of the book. Some broad literary genres include fiction, nonfiction, and poetry. The content of fiction books is make-believe. Nonfiction books depict things that really happened. Poetry is generally an expression of thoughts or feelings.
Let's go back to your favorite type of book to read. Do you think these types of books would be interesting to or appropriate for children? While some books may be enjoyed by adults and children alike, many times children respond better to books written especially for them.
Now that we understand what literary genres are, let's take a closer look at the genres that are common in children's literature.
There are Many Different Genres in Literature
We mentioned mystery, romance, and personal essay as three examples of literary genres above. Now, let's take a look at some of the most popular genres in children's literature. This scope of this lesson could not possibly list each and every genre in children's literature, but these are the most prevalent.
Contemporary Fiction
Books that take place in the present day yet are not based on actual events are referred to as contemporary fiction. These types of books are very popular selections in children's literature because young readers can usually connect with the characters who may be very similar to them or someone they know. Readers also identify with the events of the story because they may be representative of things that are happening in their own lives.
Historical Fiction
On the opposite end of the spectrum from contemporary fiction lies historical fiction. These stories share the relatable characters of contemporary fiction, but the time period is of days gone by. These are very helpful in teaching young readers about what life was like in specific periods throughout history because they are often based on or inspired by events throughout history.
Science Fiction
Spaceships, time travel, and countless other fascinating scientific possibilities are presented in science fiction. This type of children's literature is among the most popular yet is not based on fact. These works may include actual or imagined scientific principles, though. Just as with the previous examples, identifiable characters are central to science fiction works as young readers quickly engage with and attach to them.
Time Travel is a Popular Topic in the Genre of Science Fiction
Nonfiction
Nonfiction books are very different from the previously mentioned genres. They present factual information to young readers. These may be instructional books or they may explain some event or phenomenon. Biographies and autobiographies are also included in the nonfiction genre as they tell the true-life events of another person. Athletes, war heroes, and other powerful leaders are frequently the focus of children's nonfiction literature.
Traditional Literature
Unlock Content
Over 10, 000 lessons in all major subjects
https://www.gabitos.com/businessforsalebrisbane/template.php?nm=1700250229
Source: study.com
You might also like: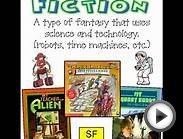 Genres of Literature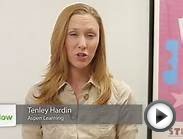 Genres & Themes in Literature for Middle & High School ...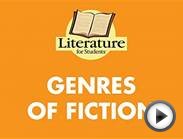 Literature for Students:5. Genres of Fiction
Splatter Movies: Breaking the Last Taboo : A Critical Survey of the Wildly Demented Sub-genre of the Horror film that is changing the face of film realism forever


Book (FantaCo Enterprises)




Used Book in Good Condition

Carson Dellosa Literary Genres Bulletin Board Set (3473)


Office Product (Carson-Dellosa)




inchLiterary Genres inch bookcase, approx. 24 inch x 48 inch
13 subgenre scenes
2 blank inchDrama inch headers
2 blank inchPoetry inch headers
Resource guide
Literary Genres bookcase, approx. 24 x 48 , 13 subgenre scenes, 2 blank Drama headers, 2 blank Poetry headers, Resource guide
Related posts: