The OCD tendencies that I only half-joke about possessing manifest in the oddest ways. Sometimes it's the way I arrange my groceries on the conveyor belt for check out. Other times, it's school planning. I'm not sure if the best title for this post is how to plan a high school reading list or how a person with OCD tendencies plans a high school reading list.
My poor family has learned not to attempt to help me put groceries on the conveyor – or, at least, to just pass the items to me and let me put them where I want them. All the frozen stuff has to go first, followed by meat, followed by dairy. Then, produce, followed by canned goods, and so on. It makes sense because all the cold foods need to go in the cooler bags together so they stay cold.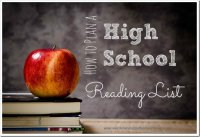 In the same way, I like for my reading list to make sense by grouping similar things together. Doing so makes school more efficient – as efficient as having all the canned goods in the same bag when it's time to put groceries away.
Study American lit with American history
I love learning history through literature, so it just makes sense to study American lit alongside American history. As we work our way though our country's history, we'll read classics such as:
by James Fenimore Cooper
by Stephen Crane
by Harriet Beecher Stowe
by Chaim Potok
by Mark Twain
We've got two years before we hit American history, so the list is a work in progress. And, just for the record, I was not required – therefore, I did not – read a single one of those books when I was in high school. I plan to rectify that by reading them alongside my kids.
Study world lit with world history
In the same way, we'll be studying world literature along with world history. I'm not sure I'm going to be able to convince Josh to read any of the Bronte sisters' works, but his list will include the following:
by Edith Hamilton. I am fascinated by Greek mythology and this is one of the few books I clearly remember from my own high school experience.
https://il.activeketocapsules.com
how do Active KETO BHB Capsules.
Source: www.weirdunsocializedhomeschoolers.com
You might also like: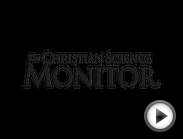 High school reading lists get a modern makeover
Press Here


Book (Chronicle Books)




A visual discovery of imagination
Develops visual recognition, sequencing, interactivity
Learn to follow instructions, sparks imagination
New York Times Bestseller
Written by Hervé Tullet
Related posts: