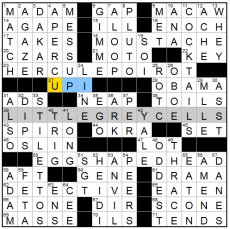 MADAM,I'm ADAM. Nah, just kidding...I'm Annabel! Which doesn't really have a palindrome with anything.
Constructor: David Steinberg
Relative difficulty: Hard (to be fair, maybe it would be easier if I had actually been alive in 1975)
THEME: HERCULE POIROT — This theme can be summed up by "I need to read more Agatha Christie." Seriously though, all theme clues are related to her fictional detective Hercule Poirot, who was so beloved that he was the only fictional character ever to have an obituary in the New York Times.
Theme answers:
MOUSTACHE (18A: Notable 23-Across feature)
HERCULE POIROT (23A: Fictional character who "died" in 1975)
LITTLE GREY CELLS (39A: What 23-Across thinks with [as illustrated by this grid?])
EGG-SHAPED HEAD (50A: Notable 23-Across feature)
DETECTIVE (62A: 23-Across' occupation)
Word of the Day: LITTLE GREY CELLS (39A: What 23-Across thinks with [as illustrated by this grid?]) —
Grey matter
or
gray matter
is a major component of the central nervous system, consisting of neuronal cell bodies, neuropil (dendrites and myelinated as well as unmyelinated axons), glial cells (astroglia and oligodendrocytes), synapses, and capillaries. Grey matter is distinguished from white matter, in that grey matter contains numerous cell bodies and relatively few myelinated axons, while white matter is composed chiefly of long-range myelinated axon tracts and contains relatively very few cell bodies. The color difference arises mainly from the whiteness of myelin. In living tissue, grey matter actually has a very light grey color with yellowish or pinkish hues, which come from capillary blood vessels and neuronal cell bodies.
• • •
Wait, wrong French detective. Here:
Ah, there we go! So anyway, as I mentioned above, the Poirot theme that I knew nothing about made this puzzle very challenging. Too challenging, perhaps, for a Monday? It might have been a LOT easier if all the theme clues helped us figure out Poirot, rather than expecting us to know Poirot to figure out the rest of the theme clues. But hey, Steinberg wrote this when he was 14 (!), cut him some slack.
The rest of the puzzle was pretty rad. Loved the identical clues for SET and LOT as well as for ACHE and LONG. BTW, Davide Steinberg, did you take French in 9th grade? Because with MASSE, ILS, MLLE, and APERCU - for that matter, HERCULE POIROT - it sure seems like it. Pretty decent fill overall. ALSO, I had no idea that NEAP was such a staple of the crossword world (the crossworld?). I had HIGH in that spot for the longest time, you know, because high tide is actually a normal concept that normal people know.
Bullets:
KEY (22A: Item on a custodian's ring) — That's the name of the school I just graduated from! The good old Key School, home of the Fighting Obezags. "Obezag" is...just the word "gazebo" spelled backwards because we didn't have a mascot in the 70s and had to make one up so sportswriters could write about us. We even won a contest for Top Mascot. *PTA mom Rex's BFF Liz Glass voice*
PLUTO (8A: Former planet) — I LOVE THAT WE TOOK PICTURES OF PLUTO I LOVE IT SO MUCH IT'S SO EXCITING AND PRETTY!
Source: rexwordpuzzle.blogspot.com
You might also like: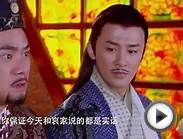 Detectives and Doctors | Lu Xiao Feng | EP 39 | Chinese ...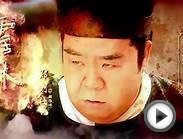 Detectives and Doctors | Lu Xiao Feng | EP 19 | Chinese ...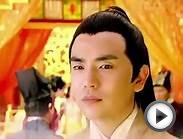 Detectives and Doctors | Lu Xiao Feng | EP 16 | Chinese ...
Related posts: