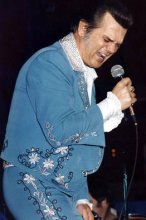 Conway Twitty Conway Twitty United LP/conwaytwitty.com
Warning: This article contains spoilers for the third episode of "True Detective" season two.
The first thing we see is a spectral Conway Twitty (musician and actor Jake La Botz) bathed in blue light and singing his hit "The Rose, " a 1983 country cover of the smash Bette Midler ballad from the 1979 movie of the same name. Twitty, who died in 1993, recorded the song for his album "Dream Maker."
The song underscores a cryptic conversation between Detective Ray Velcoro (Colin Farrell), who was blasted twice with a shotgun and apparently left for dead at the end of the previous episode, and his father (Fred Ward). While the talk takes place at Ray's favorite dive bar, which often features live music, it is clearly a dream sequence. The song plays in full, too, and we even get to see La Botz perform some Twitty-style vamping on stage just before we come crashing back into reality. "The Rose" was playing on the radio, and it had simply crept into the very-much-alive Ray's dream as songs often do when we're asleep.
Songwriter and performer Amanda McBroom, who wrote "The Rose" in the late 1970s, was ecstatic to find out that the show would be using her song, a timeless pop standard whose success has helped fuel her creative lifestyle. She just wrapped up a play in Los Angeles and will soon head to Chicago to perform a concert. In late September and early October, she is scheduled to perform at New York cabaret club 54 Below.
"Talk about the gift that keeps on giving, " McBroom told Speakeasy in a telephone interview last week. "I have the opportunity to do whatever I damn well please, thank you very much."
An edited transcript of the interview follows.
So you had no idea …
No! They never tell me anything. Warner Chappell just says, "Sure you can use it, " and much after the fact I find out much to my delight. I am so happy to know about this before it airs. Woo hoo!
Amanda McBroom amcbroom.com
Have you watched "True Detective" before?
Oh God, yes, I'm addicted to it.
Have you seen this season so far?
Yes, I can't believe they killed Colin Farrell! Oh my … or, maybe he's not dead, but he looked pretty dead to me!
I won't spoil anything for you, but "The Rose" does play a prominent role in the first scene of the third episode, and it's the Conway Twitty version.
God bless him!
Are you a fan of the Conway Twitty version?
Absolutely. Honey, I bless all the versions that make it into national attention, and I thought he did a beautiful job. It was such a hard right turn from the movie, and it was the first cut aside from Bette's to come out. I love country, and I've always loved Conway. I had heard that, when he was looking to put together that particular album, his kids told him that he had to record that song, and he said OK. I thought to have a male voice to it, first, yay, and a man with so much gravitas, it was a thrill. It was a total thrill.
Source: blogs.wsj.com
You might also like: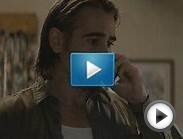 True.Detective.s02e08 BaibaKo.tv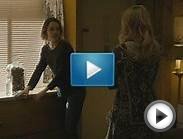 True.Detective.s02e07 BaibaKo.tv
True Detective
SANMU Women's Antiques Roadshow Tv Show Logo Tops S Black


Apparel ()




100% Cotton
Designed With Beautiful Stylish Pattern Printed On
Machine Wash Without Fade
Comfortable And Soft For Outdoor Activity
Delivery Time:7-12 Business Days

iPhone 6 6S Plus 5.5 inch Wallet Case,Nancy's shop Premium Ultra Slim Hybrid Series Scratch Proof Shock Absorbing PU Leather Flip Cover Folio with Foldable Stand Magnetic Card Holder Bumper (Free)


Wireless (Nancy's shop phone cases are made with superior quality materials and exacting production standards so that you can expect a perfect and protective fit to shield your cell mobile phone devices from harm. 0.3mm 1 dollar 2 piece 3d 49ers 5.5 6 inch 7.99 80s 99 cents apple black clear elephant for girls gold hello kitty incipio jordan kate spade lifeproof michael kors nike otterbox pink quotes red speck tough armor uag verus wallet xbox yellow zebra belt clip for women glitter jelly leather mate new rubber spigen tpu ulak shockproof with belt clip alabama bling clip for men harry potter kick stand louis vuitton ninja turtles quote stand thin victoria secret 2.89 6 card slot 9 card slot anchor cm4 juicy couture navor q teal ulak with strap zipper silicone 0.2 1 dollar free shipping 21 tech 3d cartoon 49ers otterbox 5 seconds of summer 64gb 7 dwarfs 80s baby 90's aluminum charger designer elago heavy duty iron man joker kickstand non slip otterbox defender purple quotes for girls tech21 waterproof xiana yankees zelda armor deadpool hot pink sparkles in red nintendo otter box rose gold ultra slim vintage diamonds hipster . There are leather wallet phone cases ,tpu ,ultra slim cover, flip case ,defender rubber waterproof case with built in screen protector ,2 in 1 2 heavy duty armor hybrid combo dual layer, 3d bling PC ,tempered glass,wood case, armband hang bad wallet,belt clip holster bumper body .with metal rhinestone flower print new owl elephant animal cute leopard glitter and other pretty patterns for your more choice.We always follow these power seller such as kate spade,ulak,otter box,spigen and so on as example. There are many fashion colors for your choice such as teal black blue white pink plaid red clear purple grey orange rose red green aqua silver camouflage navy gunmetal. cowboys glow in the dark shock absorption which is suitable for girl gillie girls girly kids men man women woman .you can find all kinds of phone cases in Nancy shop with 100% risk-free.)




Designed Specifically for Apple iPhone 6 Plus
Made of high quality colorful PU leather and TPU and magnetic clip design Protector For your iphone 6
Included 2 Card Slots and Money Pocket: Carry around your ID, credit and debit cards, and cash without having to take your wallet with you
This newest phone case can be used as a wallet, you can also take off the coat, used as a separate TPU phone case cover, With Simple, elegant, functional, the Case...
Quick and easy access to ports and buttons. Innovative new button design ensures an extremely easy to press button experience for your iPhone 6
Related posts: