So after digesting the premiere of True Detective, I will cop to being hooked in the cheek and yanked into Nic Pizzolatto's boat. The atmosphere, the acting, the pacing, the twin timelines, it was all right up my alley.
The show appears to be another winner for HBO, but this isn't the 12 episodes per season, keep-the-fans-on-the-hook-for-five-years effort in the same vein as The Sopranos or Boardwalk Empire. Because once this eight episode run of True Detective is over, the story will be completely resolved.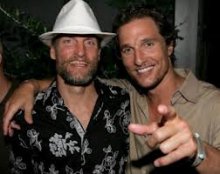 HBO certainly isn't re-inventing the anthology with True Detective, the Emmy-winning American Horror Story has already gone the self-contained route with great acclaim. And like AHS, we can expect True Detective to compete for hardware in the Emmy Awards' miniseries categories.
The fact that True Detective will tell its story in eight hours is compact even by premium cable standards. And in my mind that's a nod to the way in which the proliferation of Netflix has changed the way we access content.
Sure, in the past it was possible to buy a whole season's worth of DVD's for a show and binge watch to your heart's content (or go the torrent route, of course). But that was content that had already been broadcast. The reason why I watched a whole season of The Wire in a single weekend? I was late to the party.
Now, Netflix throws a bash with brand new content and lets you stay as long as you want. Wanna watch House of Cards all at once? Sure, go ahead. Wanna parse it out over a few nights? Whatever floats your boat.
HBO is obviously going the traditional route, presenting True Detective as a regular Sunday night offering that will have you setting your DVR. But it's that eight hour time span that I find fascinating. That's five hours shorter than you had to spend with Frank Underwood in House of Cards's freshman season.
And I'm sure that HBO sees this as a plus for later comers who won't jump on board for the initial broadcasts of True Detective. They've got the ultimate binge watch worthy show they can put on HBO GO, complete with stars you normally have to plunk down $10 at your AMC Theater to see in a first run vehicle. Take that, Netflix.
Something else to keep in mind is that it's not just the number of episodes that makes True Detective feel like a show tailor made for this new age of television, there's also the way it's produced. There is no team of writers and no rotating chair of directors: Pizzolatto wrote the episodes, Cary Fukunaga directed them all.
This is cinematic in approach and seems better suited for the Netflix model than for even premium cable. Granted, HBO has gone the miniseries route before in the recent past, you might remember the missing persons drama Five Days from 2007. But the intent with True Detective feels wholly different.
Source: lonelytailgater.com
You might also like:
True Detective Season 1 Episode 2 : Seeing Things
iPhone6 Plus Sports Armband, Nancy's shop Easy Fitting Sports Universal Armband With Build In Screen Protect Case Cover Running band Stylish Reflective Walking Exercise Mount Sports Sports Rain-proof Universal Armband Case+ Key Holder Slot for Iphone 6 Plus (5.5 Inch) (Dark blue)
Wireless (Deego)
Designed specifically for iPhone 6 Plus, Lightweight armband keeps your phone secure and protected.
Water Resistant and sweat-proof funtion to better protect your mobile phone, make you feel more comfortable during exercise,Due to varying color display...
Built in Reflective strip for safe running in low light conditions. Built-in Key holder. Cutouts for easy access to headphones port and controls. A sweat resistant...
Material: Lightweight soft neoprene that is molded to twist and bend but will not stretch out of shape. Washable with gentle soap and water, then air dry. Can keep...
Functionality: Provide excellent protection during sport, such as running, biking, jogging, walking, working out etc. Touch screen works through the clear cover
Related posts: