I had my students in my "Uncovering fairy/folk/ghost stories class" create "fairy tales with a twist." This one is by the talented Holly Lash. I hope you enjoy it. Feel free to comment and I will make sure that she sees it.
How did this assignment help you (or not) value fairy tales ?
This assignments made me see how hard it is to write a fairytale while sticking to the original tale. Your twist can't be too out-there and has to make sense within the world already established. In "The Little Mermaid, " mermaids are an established race and you have to honor that. I couldn't take the tale and place it in a desert with no water around for miles. I had to have the prince at least mentioned as that was the catalyst for everything else. For my twist, the mermaid being vengeful, I had to make it make sense within the story. I also had to give the sea witch then a reason to be angry and keep her role in the story as she was a prime character in the original tale.
What can you say about the role of fairytales as we consider what they say about how we live (or die?)
I think fairytales are a way to explore an universal truth. For example, falling in love. Even if one hasn't been in love, we can all relate to the feeling. In "The Little Mermaid" love is used as a cautionary tale. The princess sacrifices everything to be with a man she knows little about and, when he ends up falling for another, it shines a harsh light on reality. While we may think we are the heroes in our stories, we also have to accept that there are other stories in the world going on simultaneously. Happily ever afters don't always come true and this fairytale says something about that.
Are fairytales still relevant today?
I think they are. Hansel and Gretel: Witch Hunters, a movie that just came out, did fairly well at the box office as well as other fairytale retellings. Fairytales are fairly easy to retell since everyone's heard of them. Even young adult books are understanding that.
The Lunar Chronicles are a series of books written by Marissa Meyers that are based on fairytales. The first book, Cinder, is based on Cinderella with a twist that Cinderella is a cyborg in futuristic China. The elements of the tale are still there with Cinder losing her actual foot instead of her shoe on the palace steps. Scarlet, the sequel, introduces Little Red Riding Hood as a girl hunting down the gang that took her grandmother. Both of these books made it on the New York Times Bestseller's List so obviously there's an audience for this.
Holly Lash would like to say that she has a long list of accomplishments that involve saving the world and excelling in all educational fields, but she can't because she's a hermit too busy weaving stories together in her head to pay much attention to the outside world. When she isn't plotting characters' death or torturing them in any shape or form she sees fit, she likes to relax with a good book and her cat curled up on her lap. She currently lives in Reynoldsburg, Ohio. Insanity is her first of hopefully many novels. Both Insanity and Haunted, its sequel, are available for purchase through Amazon.
Source: kevincordi.com
You might also like: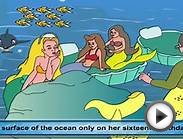 The Little Mermaid | Fairy Tales Bengali for Kids | Fairy ...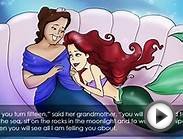 Little Mermaid - Fairy tales and stories for children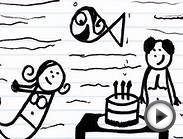 The Little Mermaid - Very Fairy Tales
Related posts: