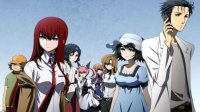 Saya no Uta
Saya no Uta features a mindbending dilemma where the protagonist's perception is shifted so that, bizarrely, he only sees grotesque imagery in everyday situations, the novel is disturbing beyond reason in so many aspects. Beautiful women are now foul beasts with meaty appendages reeking of offensive stenches. Delicious food is now rancid and disgusting. Most of all he's no longer able to communicate effectively with the outside world as their words now sound foreign and unwelcoming. He's alone, locked in his own mind in this new world, except for a lone girl who still appears as nubile and human as can be. Equal parts sexual thriller and grotesque imagery, Saya no Uta seeks to crawl directly underneath your skin and make its home there.
Higurashi: When They Cry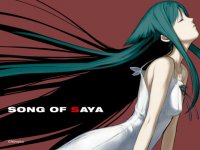 Visual novel veterans and otaku alike share praise with Higurashi: When They Cry, a deceptively demure mystery/horror adventure with chills and thrills aplenty. It begins innocently enough, with a gaggle of adorable, wide-eyed heroines who actually seem quite docile. Things only progress downhill from there in an all-out creepfest complete with adorable little girls stabbing themselves and other, more decidedly adult sequences that involve freakishly long nails, creepily-drawn eyes, and more unsettling motivations than you can shake a stick at.
999: Nine Hours, Nine Persons, Nine Doors
The handheld visual novel struck a chord with players, enough so that a sequel was planned for a US release later in October of this year. The cult hit follows Junpei, a college student who comes home to find his window open and a mysterious figure wearing a gas mask reflected in his now-closed window.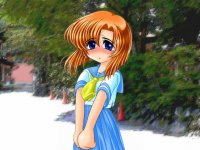 He passes out and upon waking can remember only that he was "chosen" to play something known only as the Nonary Game, which ends up quickly conjuring Saw and other familiar horror films, as the Nonary Game finds a group of eight other individuals kidnapped and forced to participate in a mysterious game-if they don't play ball, the bombs inside their bodies will detonate.
Lux Pain
This hidden DS gem didn't reach the cult status it should have deservedly received, but it was a solid supernatural adventure that relied on eerie visuals, aural cues, and creepy dialogue to weave a horrific tale. As Atsuki Saijo, a member of the FORT organization, you're tasked with tracking down victims of the mental parasite SILENT, which is born in the negative feelings of human beings and can eventually drive them to suicide. Isolating and destroying a SILENT (or lesser WORM) is a disturbing process in itself, but the accompanying narrative and incidents surroundings that seem a little out of place for an ordinary high school. We dare you to curl up in bed under your blankets to play in the dark. If the typos fail to scare you, the first time you use Sigma will.
Source: dispatches.cheatcc.com
You might also like: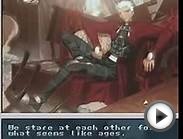 Fate/Stay Night Demo On NO$GBA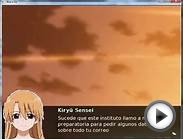 Descargar Novela Visual [Kissxsis 0.9 Remake] Español PC ...
Love Hina GBA - Visual Novel
Grand Theft Auto: San Andreas


Video Games (Rockstar Games)




Drive through the largest GTA environment ever -- The game has three cities players can explore, for a gaming area 5 times larger than Vice City
Recruit new characters into a street gang and take over by leading drive-by shootings against rivals
Steal all-new vehicles, including bicycles
Improved fighting elements -- smoother hand-to-hand combat, plus the ability to hold a weapon in each hand
New graphics elements as cars get dirty and even rust, the longer you drive them
Related posts: