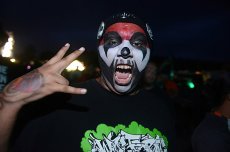 Juggalos: now providing summer beach reading for your parents
Photo by Nate "Igor" Smith
Pulitzer Prize-winning, bestselling novelist John Sandford has delighted readers for years with his Prey series, which follow the adventures of fictional Minnesota detective Lucas Davenport as he plays by his own rules to solve tough cases. The charismatic Davenport often delves into some pretty dark stuff, tracking serial killers, uncovering political scandals and even exploring the Twin Cities goth scene in 2009's Phantom Prey. But for the 25th entry in the series, Gathering Prey, Sandford introduces Davenport to his most twisted milieu yet: the Gathering of the Juggalos.
That's right, Davenport is the Juggalos' only hope (outside their "fam-i-ly") from a psychopath named Pilate whose band of "Disciples, " while cheating festival attendees out of their money, have been killing people at large-scale events around the country. Pilate and his group have been murdering "travelers" (vulnerable panhandlers that travel from town to town) and have their sights set next on the Gathering of the Juggalos, where they expect to find travelers galore.
This past Father's Day weekend, I spoke to the biggest John Sandford fan I know, my dad, about how the new book makes the Gathering of the Juggalos and the world of the Insane Clown Posse sound. My dad is a native Minnesotan who has been reading Sandford's often hyper-localized Twin Cities work for decades, so he knows the ins and outs of the series very well. While neither of us have been to a Gathering, I trust his opinion on the book and its portrayal of Juggalos to be fair and unbiased.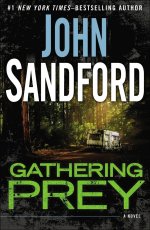 Prior to Gathering Prey, were you familiar at all with the Gathering of the Juggalos?
Not myself, no. I was familiar with the Insane Clown Posse because you interviewed one of them a while ago. So, when I see them whenever they make the news. I know they're a little bit radical. Well, all of a sudden it turned up in the book's storyline of these people going to these Juggalo gatherings. I thought, "Geez, I didn't know about those, " and then all of a sudden it said, "Yeah, those are the followers of the Insane Clown Posse."
It was part of the storyline, but the Juggalos aren't the real bad guys. They're just in the plot in a very strong way.
Source: www.laweekly.com
You might also like: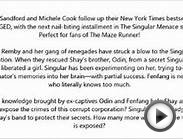 Outrage (Singular Menace Series #2) by John Sandford eBook ...
Related posts: